Steel Division: Normandy 44
Kan aktiveres i: Danmark

Produkt type: CD Key / Digital licens

Platform: Steam
Du modtager din CD key på e-mail med det samme
Deluxe Edition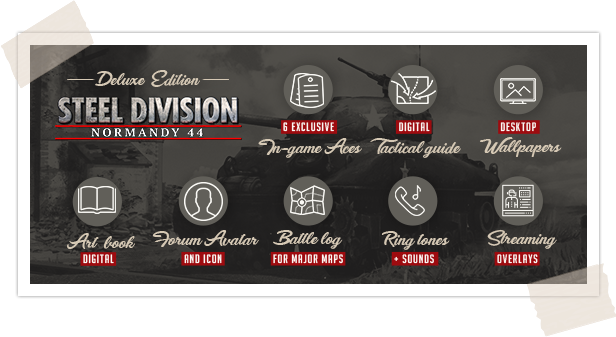 The Deluxe Edition of Steel Division: Normandy 44 comes with the following extras:
Art Book:
A detailed look at the art and making of Steel Division: Normandy 44
Tactical Guide:
A digital book getting you up to speed with the terrain and tactics of the game.
Six Exclusive in-game aces: Historical personalities you can deploy on the battlefield
Ernst Barkmann (Germany, Panther A tank)

Joseph Priller (Germany, Bf109A fighter plane)

Dick Winters (The USA, Paratrooper Battalion)

Wilfred Harris (The UK, Sherman Firefly tank)

Leo Major (Canada, sniper scout)

Kurt Knispel (Germany, Tiger II)
Battle Log:
Major maps of the game and how to fight them
Deluxe avatar and icon for the Paradox forums
Unique ringtones and text message sounds
Wallpapers:
Artwork from Steel Division you can use to decorate your computer desktop
Streaming Overlays:
Steel Division themed overlays for those who stream on Twitch or YouTube.
Om spillet
Steel Division: Normandy 44
is a Tactical Real-Time Strategy (RTS) game, developed by Eugen Systems, the creators of titles like Wargame and R.U.S.E. This new game puts players in command of detailed, historically accurate tanks, troops, and vehicles at the height of World War II. Players can measure their tactical skills against several opponents in big multiplayer battles or against enemies in a challenging single-player campaign. Steel Division: Normandy 44 allows players to take control over legendary military divisions from six different countries, such as the American 101st Airborne, the German armored 21st Panzer or the 3rd Canadian Division, during the invasion of Normandy in 1944.
Main Features:
Command Over 400 Historically Accurate Units:
Whether fighting for control in intense multiplayer battles with up to 10-vs-10 players going head-to-head, playing alone or working with friends in ranked matches, players will need to coordinate their selection of historically accurate infantry, tanks, aircraft, and support vehicles to counter enemy units in this Tactical RTS game.
Real-world Tactics:
Battles rage over three distinct phases, where different units unlock over time, mimicking the movements of real-world armies and adding variety to the ever-changing theatre of war. A dynamic front line illustrates the ebb and flow of the conflict. Pin down your opponent's infantry to gain the advantage and force a retreat, or push through with a perfectly executed plan.
Real-world Setting:
Using the latest version of Eugen's IRISZOOM engine, players can smoothly zoom from a tactical aerial view all the way down to a single unit, and see 400 different real-world vehicles and units designed with careful historical detail and accuracy. Maps are designed based on actual aerial reconnaissance photos of Normandy in 1944, requiring real-world tactics and strategies to cover and control.
Outplan, Outsmart, Outgun:
From battlegroup customization to troop positioning and maneuvering, winning battles requires cunning and strategy, not just raw firepower. Each unit lost presents a growing tactical disadvantage, and players will need to fight to gain -- and keep -- the upper hand.
From commanding historically accurate infantry, tanks, and vehicles, to troop positioning and real-time engagement with the enemy, players will need to be clever and resourceful in order to win. Every unit counts as the battle presses on, and raw firepower alone will not be enough to claim victory. Whether viewing the entire battle from an aerial perspective, or following a single tank into a firefight, players will need to cleverly manage the dynamic front line in order to execute ambushes and advances