Kan aktiveres i: Danmark

Produkt type: CD Key / Digital licens

Platform: Steam
Du modtager din CD key på e-mail med det samme
NETOP OPDATERET!
The INFINITE ONSLAUGHT CONTENT UPDATE is here - Details below...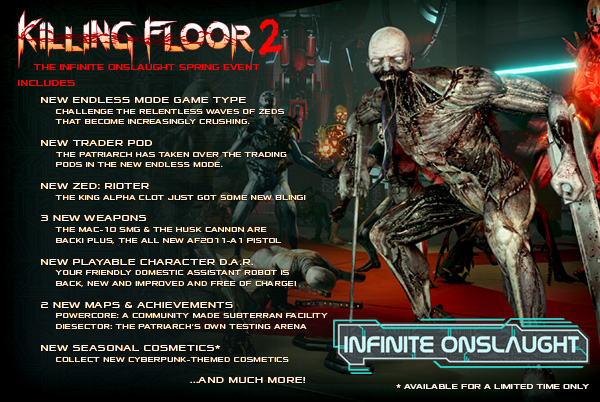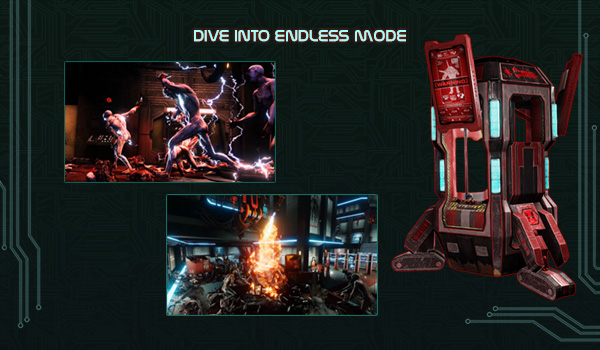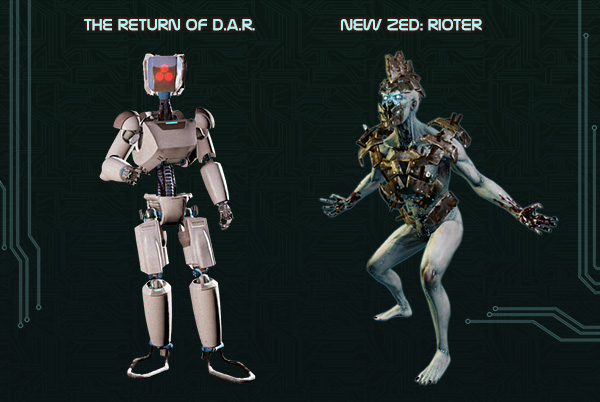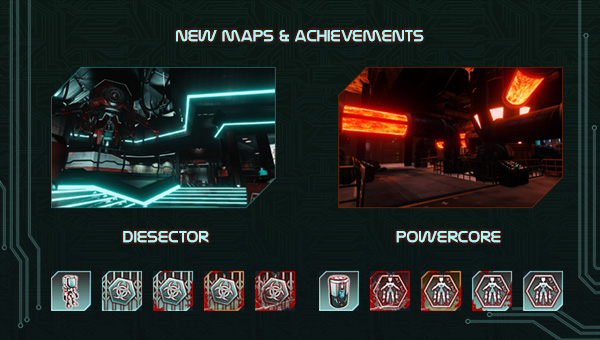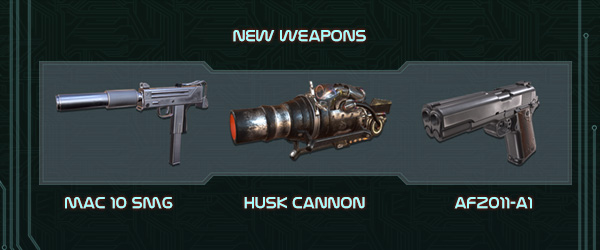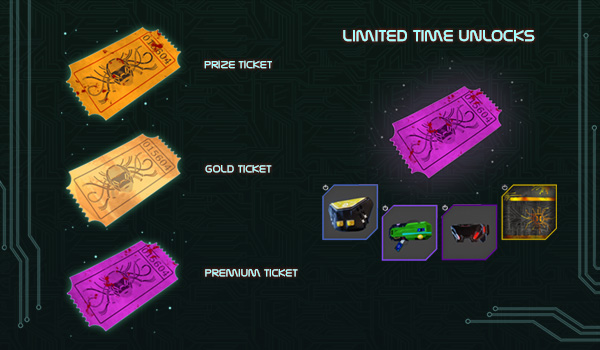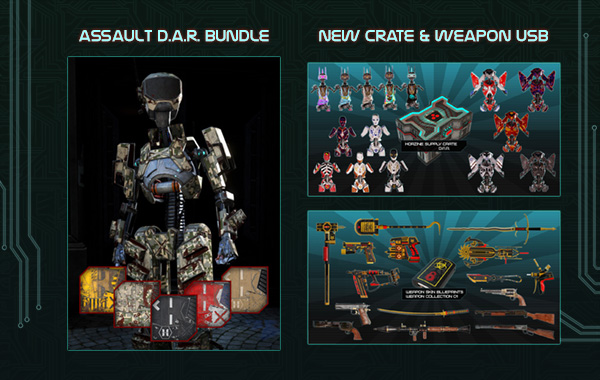 Krampus Christmas Update
The 2017 Krampus Christmas Seasonal Event is here! Details below on our first XMAS event for Killing Floor 2...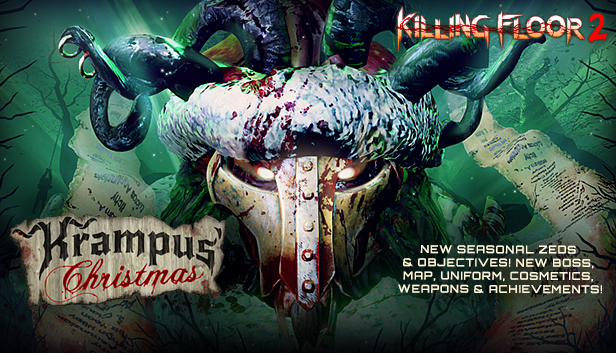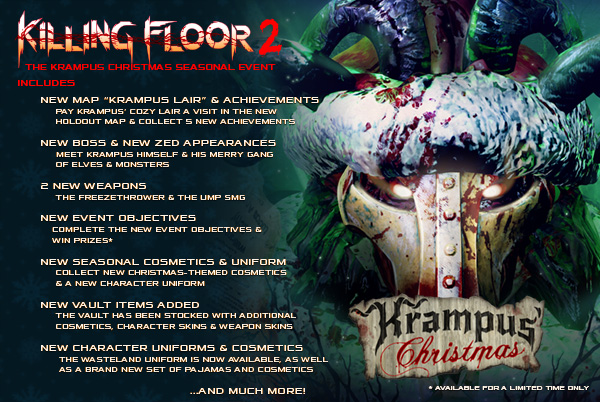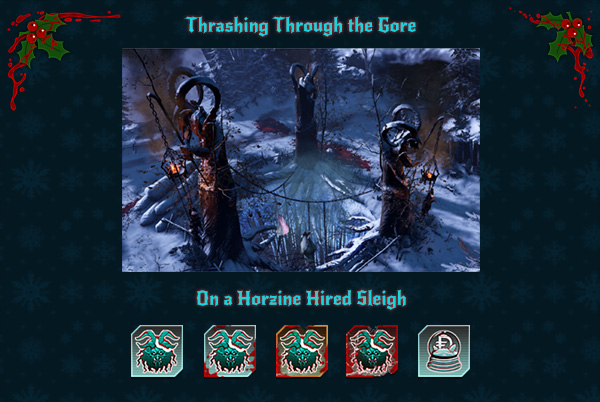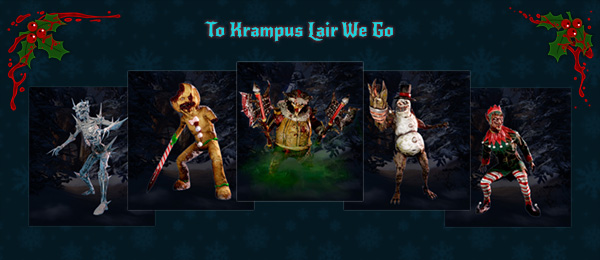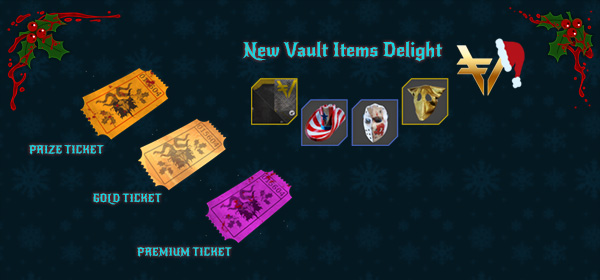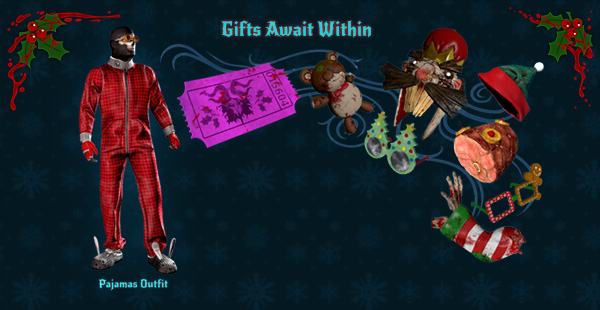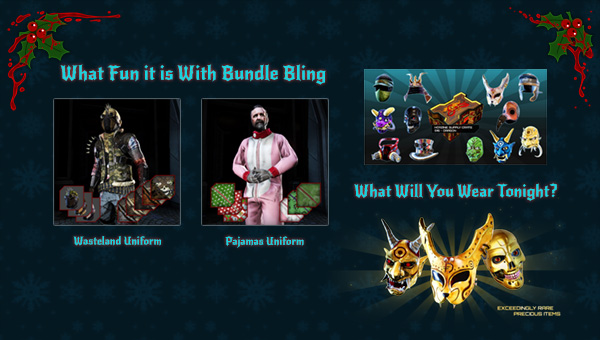 The 2017 Halloween Horrors Update
Halloween Horrors is here! Details below...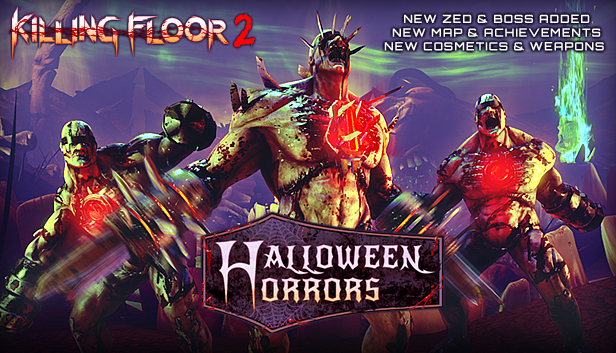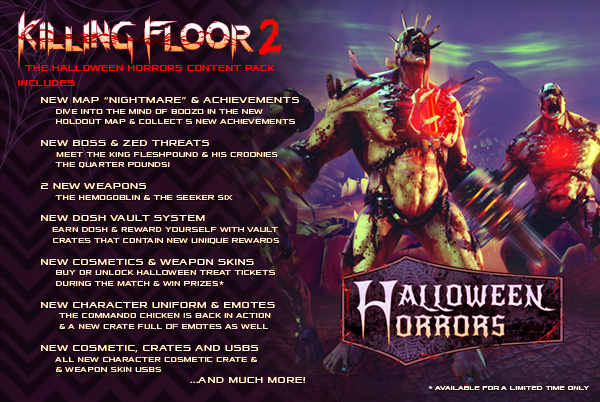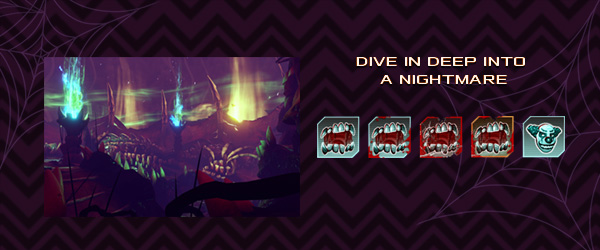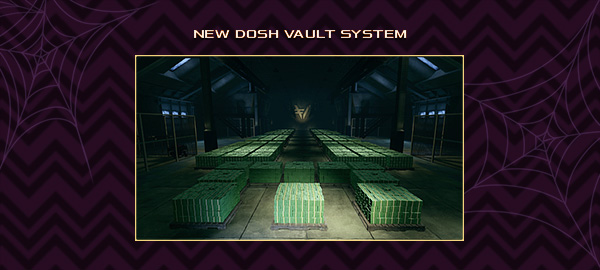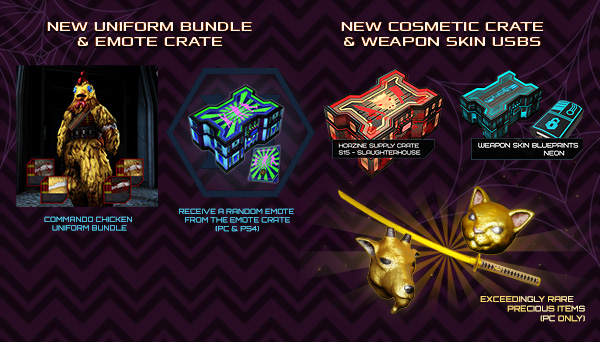 The 2017 Summer Sideshow
You asked for it so here it is... The Summer Side Show 2017 has begun!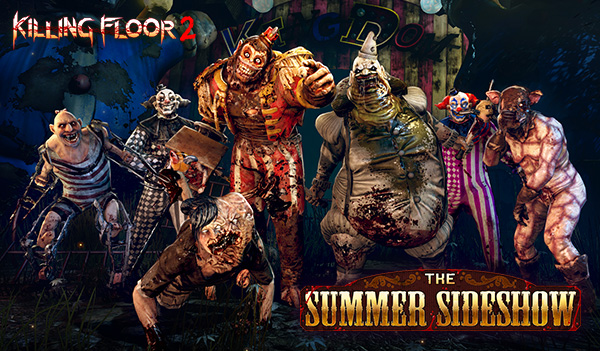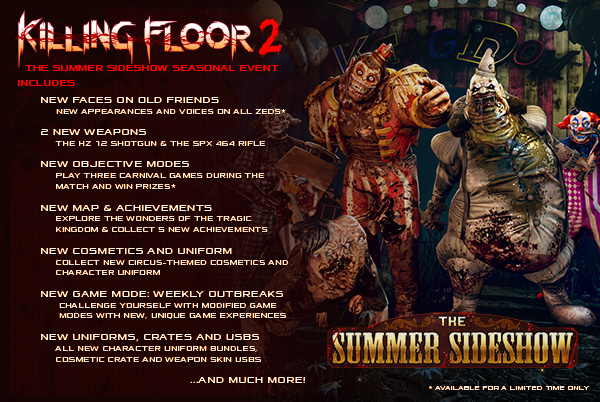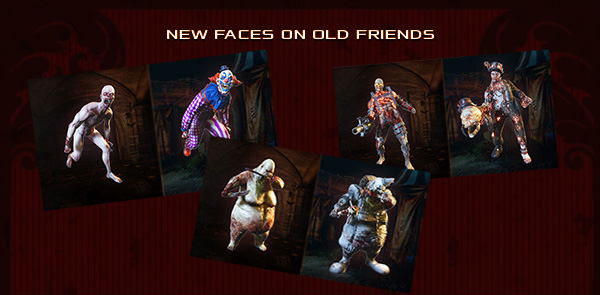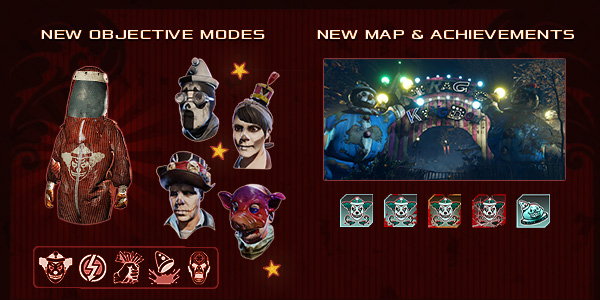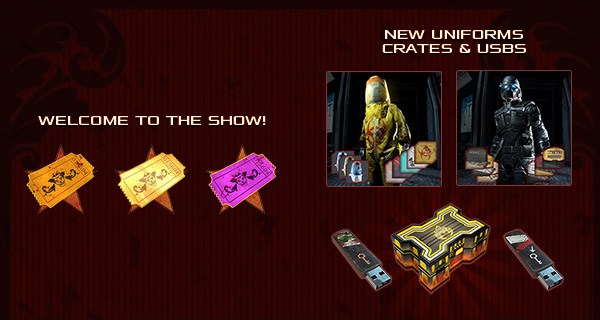 The Descent Content Pack
Available Now - The Descent Content Pack!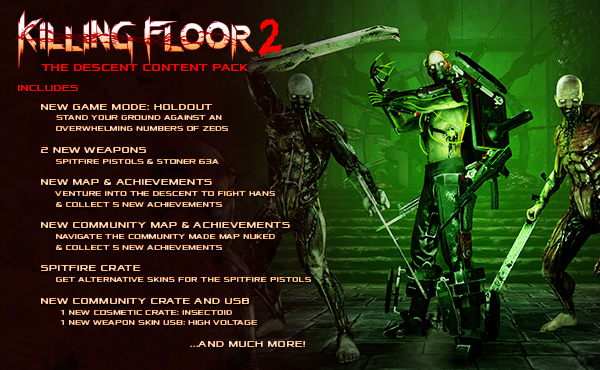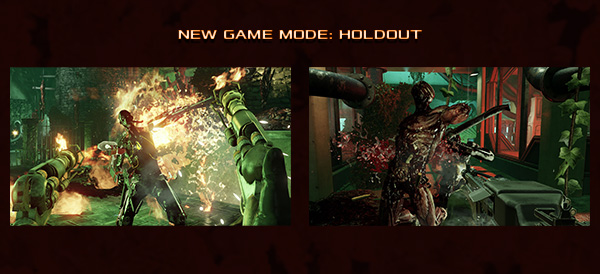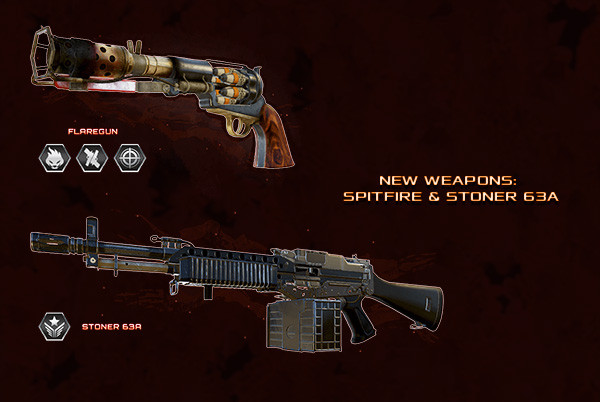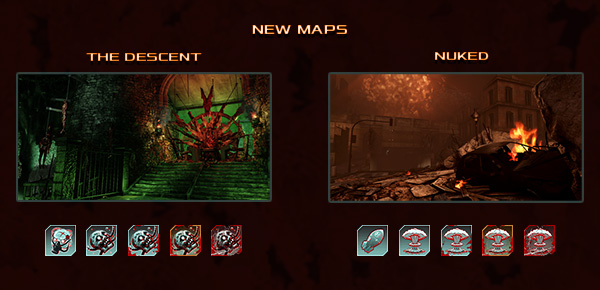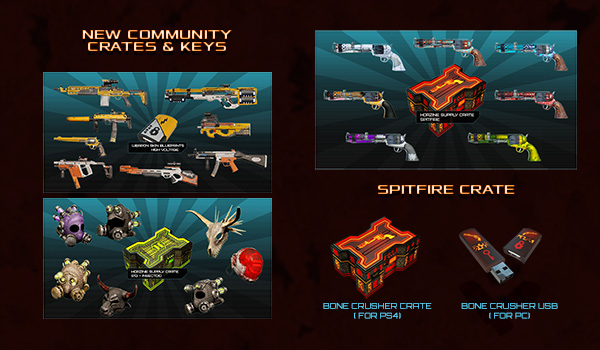 Tropical Bash Content Pack
Happy 2017! The Tropical Bash Content Pack is available now!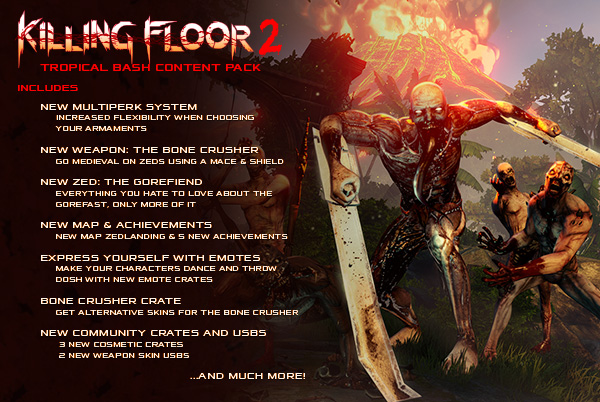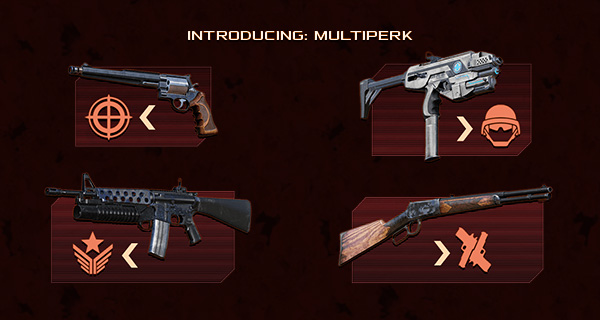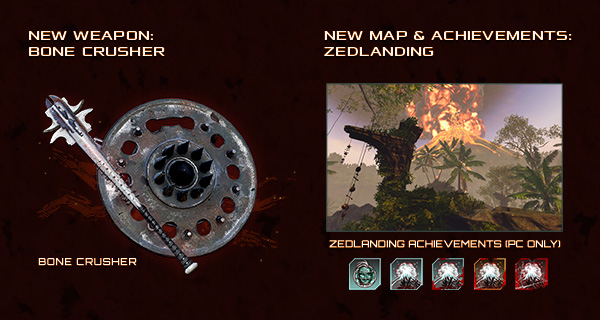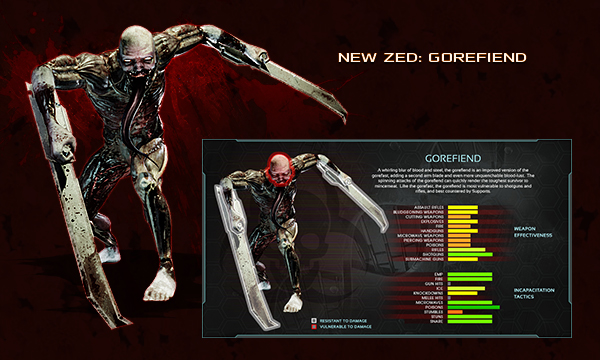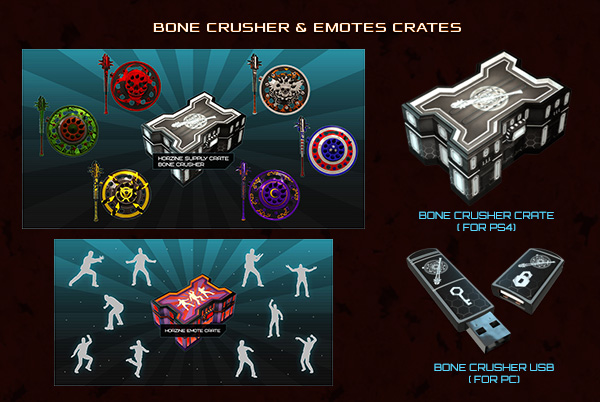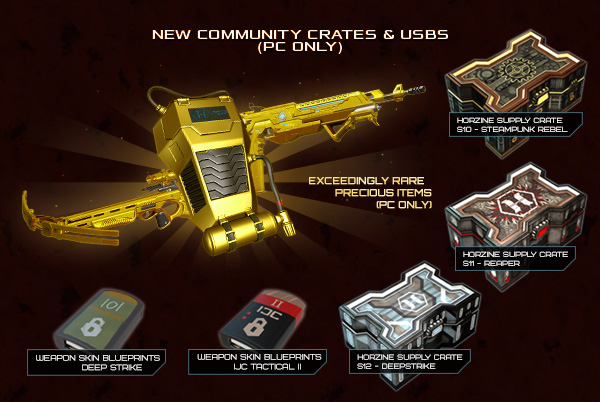 Full Release
KILLING FLOOR 2 - FULL RELEASE!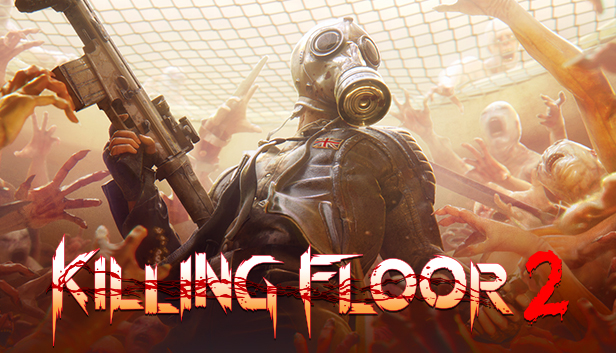 Tactical Response Update
b]We're just released the new Tactical Response Update! [/b]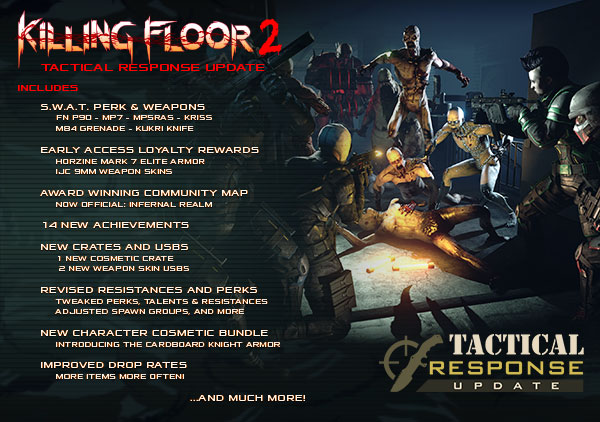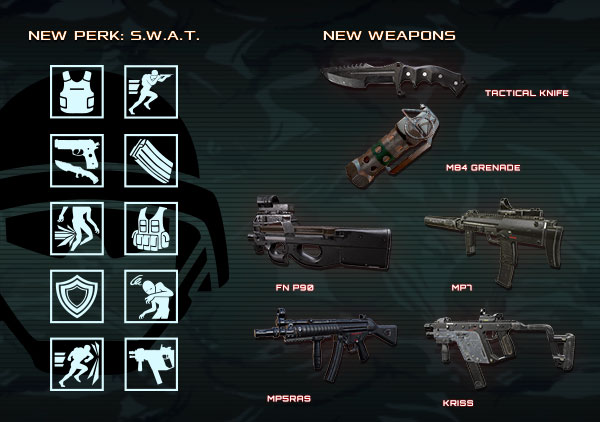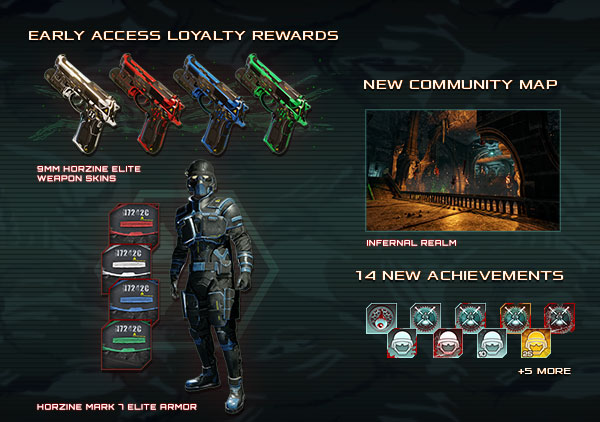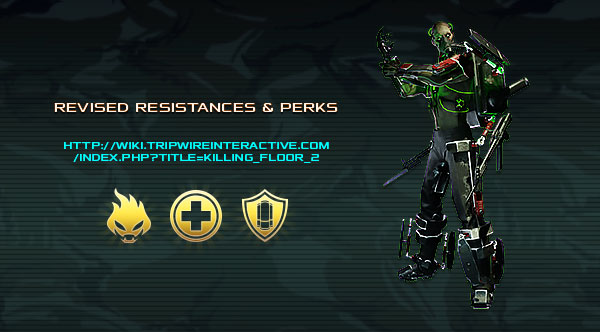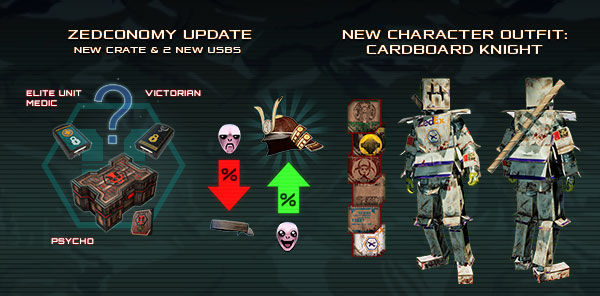 Bulls-Eye Content Update
The Bulls-Eye Content Pack is here!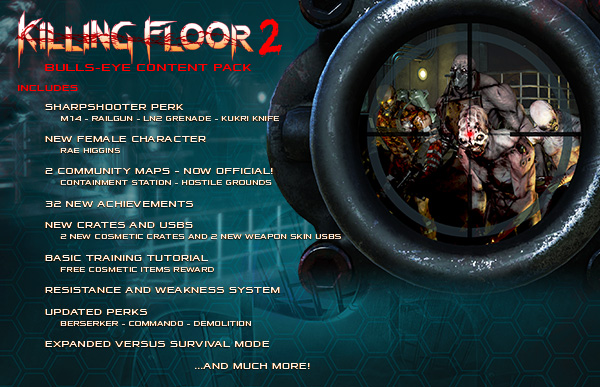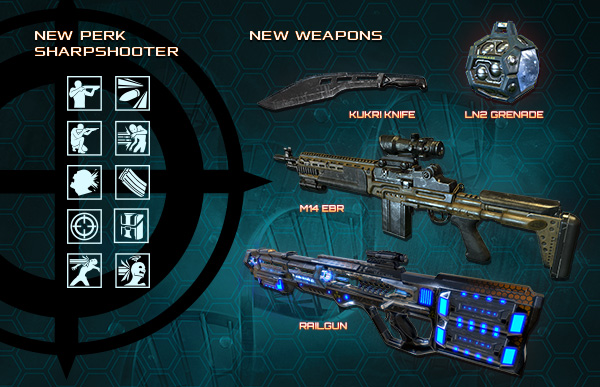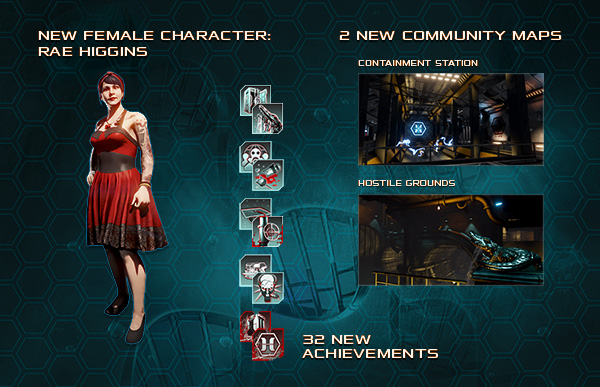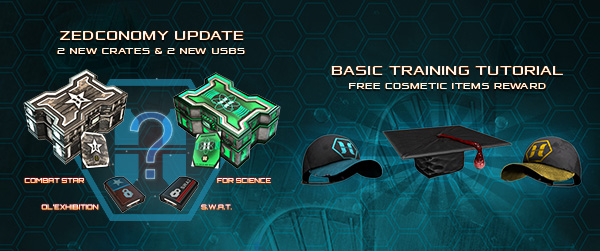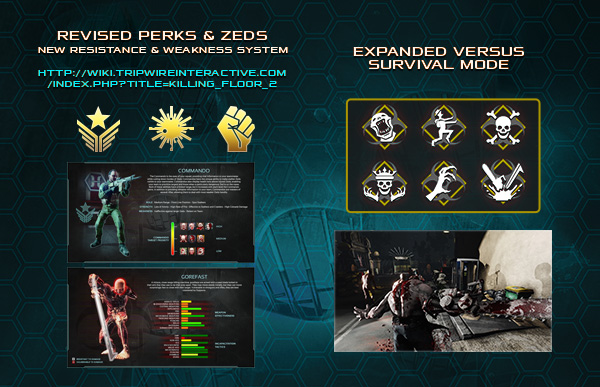 Revenge of the Zeds - PvP!



And here is the next major update for Killing Floor 2. This time it contains:

12-player Versus Survival game mode, where up to 6 people are Human - and up to 6 more play as the Zeds!

New map: Prison, set in deepest, darkest Russia. With new Achievements, of course!

Two favorite Sharpshooter weapons - the Crossbow and the Winchester lever-action rifle.

And a big batch of community-created content for the Zedconomy!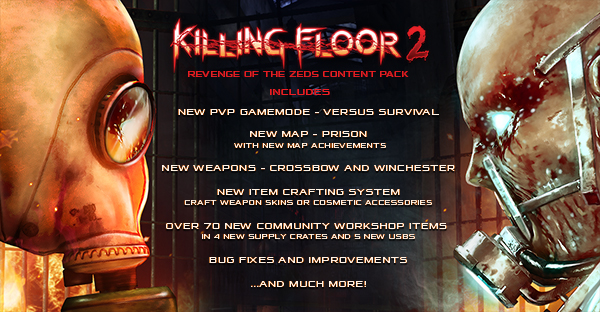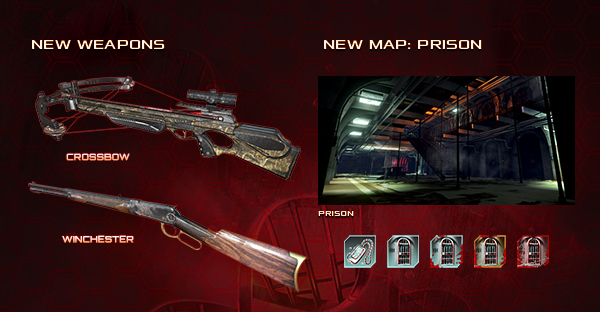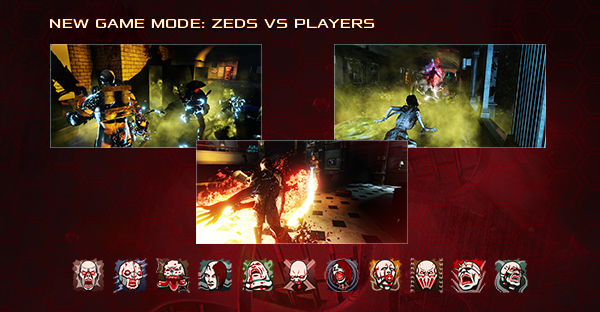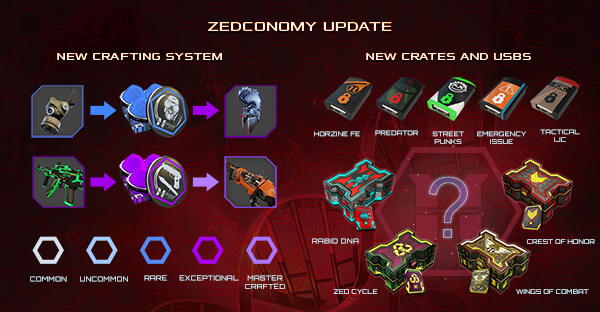 Return of the Patriarch



We're pleased to announce the next major content update for Killing Floor 2 - The Return Of The Patriarch Content Pack!

The brand new Return of the Patriarch Content Pack marks the long awaited arrival of the infamous final boss from the original KILLING FLOOR, the Patriarch! Formerly known as Kevin Clamely, the CEO and founder of Horzine Biotech, the Patriarch has found his way to KILLING FLOOR 2 and he's back with a vengeance. Feared by all, the Patriarch is even deadlier than ever, with new attacks that very few will be able to survive.

Additionally, two new maps will be included in the Return of the Patriarch Content Pack. The new Farmhouse map takes players into a misty, dimly-lit farmhouse far from civilization. With deadly Zeds crawling around every corner, players must do their best to destroy them all. They'll also find themselves isolated from humanity in the new Black Forest map where dangerous creatures live deep within the woods.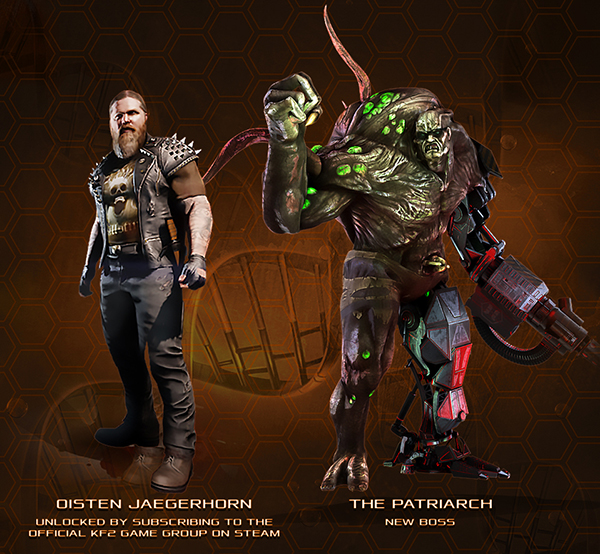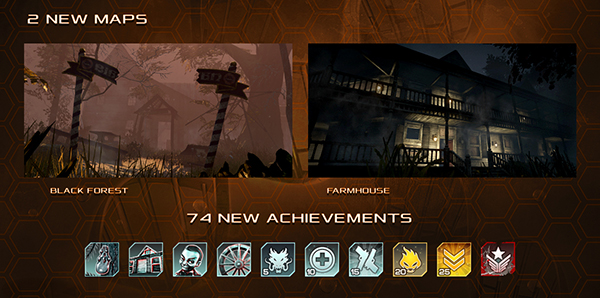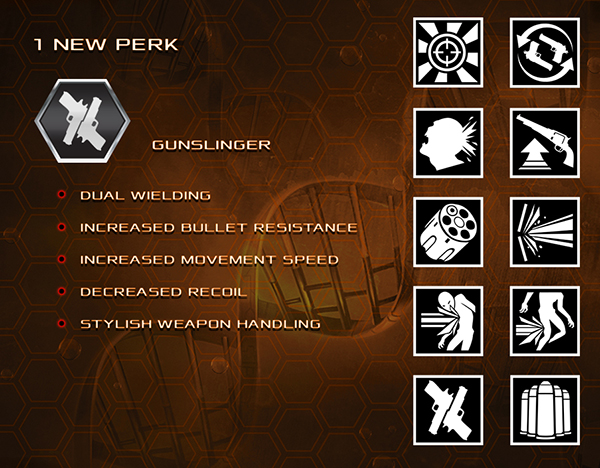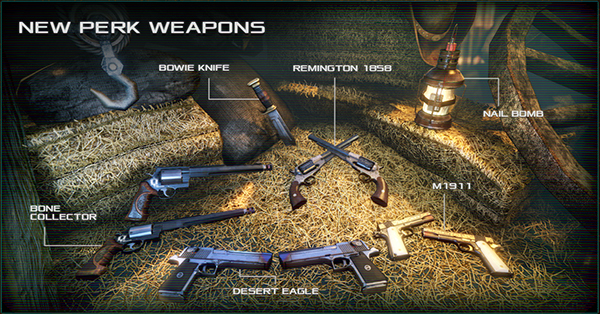 Trading Cards

Get ready for a bloody good time this Halloween with monster-sized discounts for both KILLING FLOOR and KILLING FLOOR 2! The Steam Halloween Sale promotion will begin starting on October 29th at 10AM PDT through November 2nd at 10AM PDT.

SALE DETAILS
- The original KILLING FLOOR and all its associated DLC will be on sale for 75% off!
- KILLING FLOOR 2 will be on sale for 33% off!

In addition, Steam Trading Cards will be introduced for KILLING FLOOR 2 starting now. Show off your allegiance to the KILLING FLOOR franchise and collect all of the cards!

TRICK OR TREAT?
Content Patch 1&2

And now we have the next content update for the Early Access version of Killing Floor 2. This one actually takes the total content in Early Access to more than there was at the full launch of the original Killing Floor and includes:

2 crossover playable characters - Tom Banner, for all those who own/buy Chivalry: Medieval Warfare and Anton Strasser, for all those who own/buy Rising Storm/Red Orchestra 2.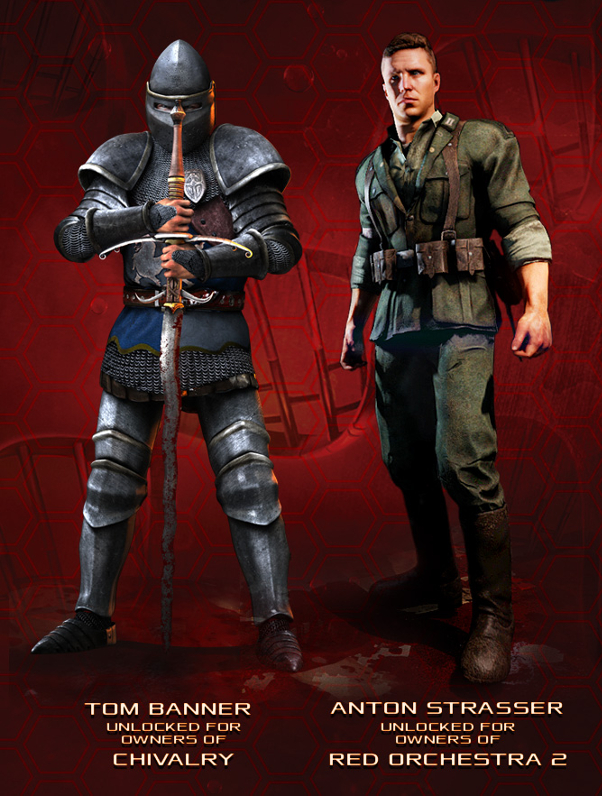 2 New Maps (along with map achievements):


Catacombs, deep under Italy, full of dark tunnels and caves, likely to get even darker when you blow out the lights.

Evacuation Point, on the Danish coast, where yet another attempt to escape from the outbreak failed horribly.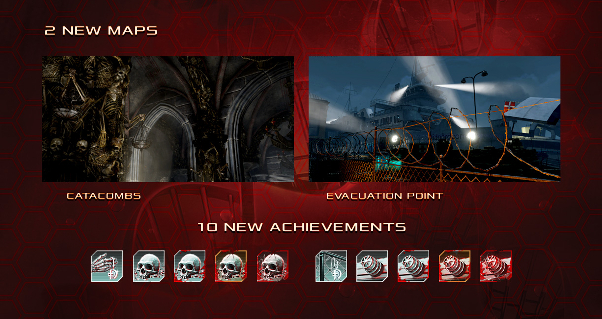 2 full Perks - Demolition and Firebug. That should keep all the fans of explosions and burning things happy!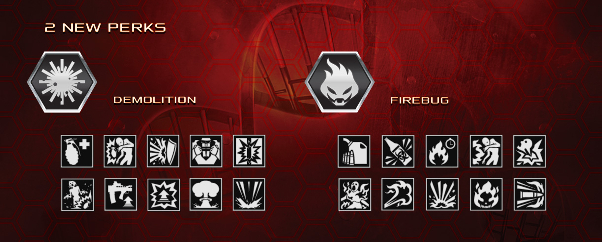 Finally, a whole bunch of weapons, including all the weapons for each of the new Perks, along with the first Duallies - starting with dual 9mm pistols.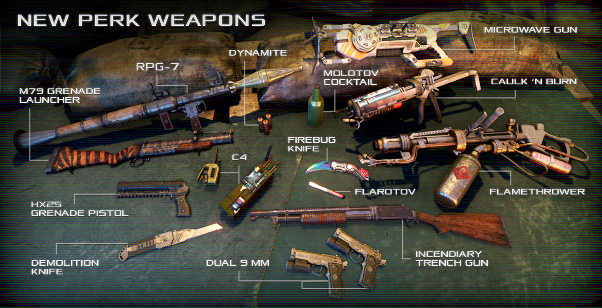 Here is the first content patch for the Early Access version of Killing Floor 2:
New map - Volter Manor

Collectible items added to existing maps

8 new Steam Achievements

A bunch of other updates and balance tweaks - see the Recent Updates for the full change list

And, as a very special extra, all owners of KF1 will now get the "classic" Briar and Masterson characters, with the original voice actors!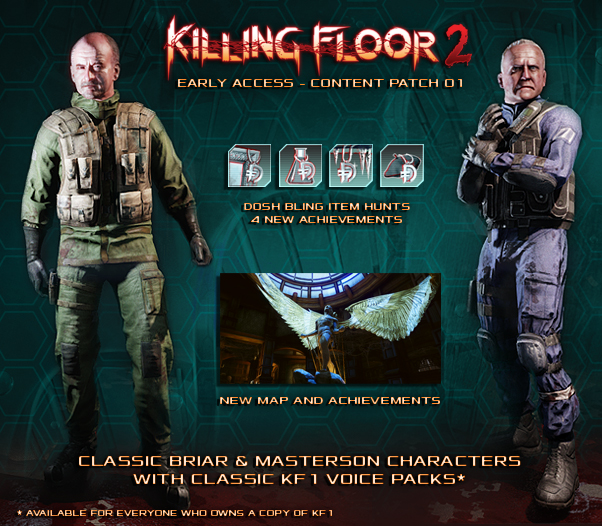 Digital Deluxe Edition


KILLING FLOOR 2 Digital Deluxe Edition adds the following to the base game:

DJ Scully character, with unique voice pack and set of face/body skins

Additional cosmetic items (each with multiple selectable variants):

"Scullyphones" headphones for DJ Scully, Mr Foster, Hayato Tanaka and Donovan Neal

3D Glasses for Ana Larive and Hayato Tanaka

Bowler Hat for Mr. Foster and Reverend Alberts

Tom Banner and the Zweihander

Classic Masterson

Classic Briar

Oisten Jaegerhorn

Anton Strasser

Killing Floor 2 Soundtrack

Killing Floor 2 Digital Artbook
AND a copy of the first Killing Floor!
Om spillet
In KILLING FLOOR 2, players descend into continental Europe where the outbreak caused by Horzine Biotech's failed experiment has quickly spread and gained unstoppable momentum, essentially paralyzing the European Union— Just one month after the events in the original KILLING FLOOR, the specimen clones are everywhere and civilization is in disarray; communications have failed, governments have collapsed, and military forces have been systematically eradicated. The people of Europe know survival and self-preservation too well and lucky survivors have gone into hiding.
Not all have given up hope though... A group of civilians and mercenaries have banded together to combat the outbreak and established privately funded operation bases across Europe. Upon tracking specimen clone outbreaks, players will descend into zed-laden hot zones and exterminate them.
KEY FEATURES: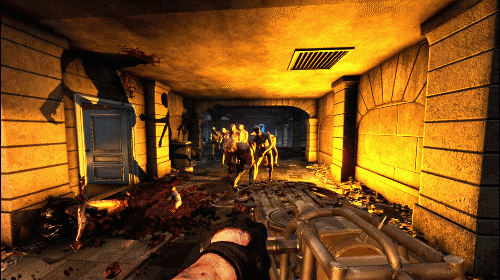 • Visceral Gore - KILLING FLOOR 2 ramps up the gore with a proprietary, high powered persistent blood system bringing new levels of fidelity to the genre. Players will send entrails, severed limbs, and blood flying as they wade through hordes of enemies. But they need to watch out! If caught, enemies will rip them, and their entire party limb from limb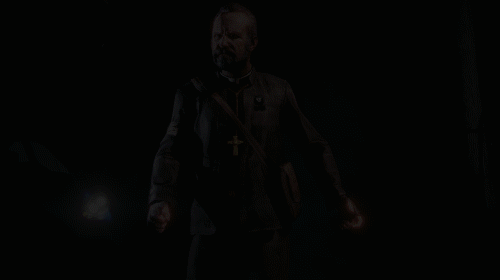 • 6 player co-op or solo play— A multitude of varied playable characters await for players to choose from as they enter the fray in online co-op mode or solo mode for those willing to brave the horrific specimens alone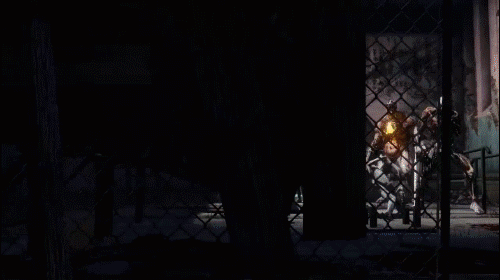 • Versus Survival Game Mode - Be the Zed! A 12 player PvP mode where two teams take turns playing Humans vs. Zeds in a pair of short matches. In the first match, one team plays Humans and the other Zeds until the humans all die during a single round or they beat the boss. For the second match the teams switch sides and when the battle is completed both teams receive a score based on their performance and the higher score wins!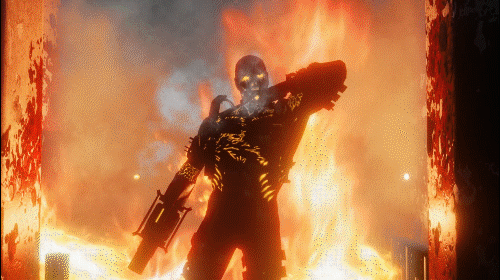 • Terrifying Zeds - New enemies and fan favorites from the original game are back with expanded and smarter artificial intelligence, dishing out powerful attacks, working as a group to weaken the player's party and pushing the challenge level and fear factor to new levels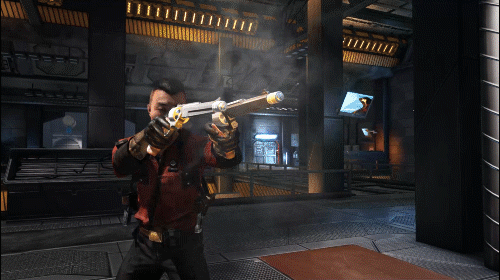 • Unique Blend Of Weaponry - From modern militaristic assault rifles, brutal improvised makeshift weapons, classic historical guns, and off the wall "Mad Scientist" weapons, KILLING FLOOR 2 has a unique blend of killing tools that will satisfy any gamer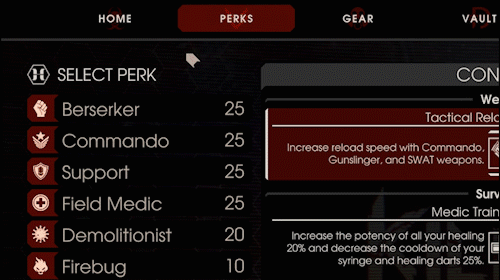 • Expanded Perk System - Perks from the original game have been reimagined with more added to the fold. All perks now progress with meaningful talent choices that amplify different play styles, giving players a progression path that is expansive and full of rewarding milestones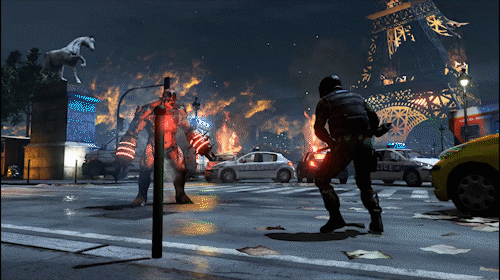 • Brutal Melee Combat - KILLING FLOOR 2 reinvents melee combat completely. Players now have control over the type of melee attacks they can perform, enabling them to deliver bone-breaking crippling attacks to Zeds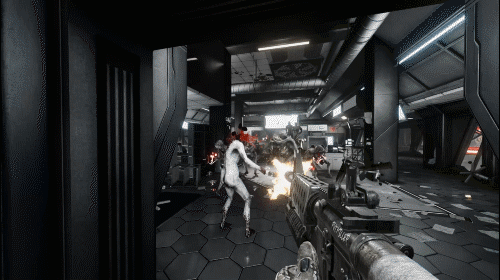 • Zed Time - Be the action hero you know you are! Zed Time returns to Killing Floor 2 better than ever, kicking everything into slow motion giving you that precious time you need to destroy the oncoming horde while watching your weapons at work in glorious high framerate
KILLING FLOOR 2 Digital Deluxe Edition adds the following to the base game:
DJ Scully character, with unique voice pack and set of face/body skins

Additional cosmetic items (each with multiple selectable variants):

"Scullyphones" headphones for DJ Scully, Mr Foster, Hayato Tanaka and Donovan Neal

3D Glasses for Ana Larive and Hayato Tanaka

Bowler Hat for Mr. Foster and Reverend Alberts

Tom Banner and the Zweihander

Classic Masterson

Classic Briar

Oisten Jaegerhorn

Anton Strasser

Killing Floor 2 Soundtrack

Killing Floor 2 Digital Artbook
AND a copy of the first Killing Floor